Star Wars Nerds Convent @ Venue FLiX
Venue FLiX
Star Wars Nerds Convent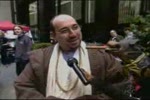 Old one this is. But it is hillarious!
Movie Parodi
https://venue.nu/infusions/flix/playing.php?id=2009
There are 1356 Items in 57 categories with a total of 575 Votes
Venue uses cookies. Some may already have been set.
Read more about our Cookies here
.
Please click the button I Consent Cookies to hide this bar and accept our cookies. If you continue to use the site with no action taken, we'll assume that you consent our cookies anyway.